Miami Beach Brothers Play Football for a Good Cause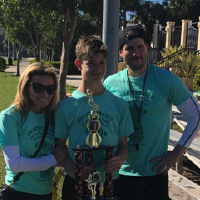 For the second year in a row, Jared, Koby and Evan Resnick held the Quarterbacks for the Holocaust Memorial Miami Beach, which raised $14,400. Conceived last year by 15-year-old Jared as a Bar Mitzvah project, this year's event enlisted 46 young athletes and local event sponsors for a flag football tournament on Sunday, December 10 at Normandy Isle Park.
The Resnick brothers are great-grandchildren of former Miami Beach Vice Mayor Abe Resnick, z"l, a survivor of the Shoah and a founder of the Holocaust Memorial, who was instrumental in commissioning the property where the landmark was built.
Each participant in the flag football tournament paid an $18 entry fee. All proceeds were donated to the Zachor Society, which helps preserve the structure and Mission of the Holocaust Memorial. The Holocaust Memorial Miami Beach is a Committee of the Greater Miami Jewish Federation.